USAP Forum 2015 Speakers
We always have a diverse list speakers. The summary biographies of the 2015 speakers are listed below.
Tsitsi Masiyiwa: Founder and Executive Chairperson of the Higherlife Foundation (HLF)
Tsitsi Jaji: Professor of African and Diaspora Literatures
Esau J. Mavindidze: President of the Zimbabwe Diaspora Network North America (ZDNNA)
Ronald Mutasa: World Bank
Kim Cassidy: Bryn Mawr College President
Tsitsi Masiyiwa
Founder and Executive Chairperson of Higher Life Foundation (HLF)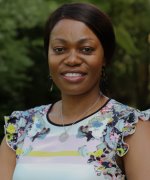 Tsitsi Masiyiwa is the Founder and Executive Chairperson of Higher Life Foundation (HLF), which she founded with her husband Strive Masiyiwa. HLF's strategic thrust is, "giving greater access to quality education to less privileged students in Sub-Saharan Africa through scholarships and a technology driven investment in educational solutions." Since inception 228 242 orphaned and under privileged children have received scholarships in primary, secondary and tertiary institutions. At the heart of her vision is an innate desire to see tangible impact and Tsitsi's people centered approach has led her to go where the children are, sleep where they sleep and hear their deepest hearts desires and help recreate their world through giving them access to quality education.

A social entrepreneur and an innovator Tsitsi's ability to identify needs in African communities and transform them into opportunities for transformation led her to found Muzinda Hub, Zimbabwe's first entrepreneurship and innovation Hub. The Hub has to date trained 1000 youth in digital skills who are now offering Digital Services and are being placed as programmers in organizations across Southern Africa. Tsitsi is also the Founder of Ruzivo Digital Learning [RDL], a revolutionary customised and curriculm aligned Digital Learning platform for primary school students in Zimbabwe. RDL is set to change the level of access to quality education through an applied self-paced and blended learning data driven education model that improves student outcomes and results.

Tsitsi serves on the Board of Directors for PATH, a Seattle based nonprofit that transforms global health through innovation. She is a Founding Member of the African Philanthropy Forum and a Member of the Advisory Council for the Global Philanthropy Forum.
Tsitsi Jaji
Professor of African and Diaspora Literatures
University of Pennsylvania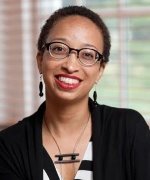 Tsitsi Jaji is a professor of African and diaspora literatures, and moved to the U.S. to attend university after completing A levels at Arundel School in Harare. Mentoring and teaching students is the most rewarding part of her work. For the past 7 years has taught about global black literatures, cinema, and music at the University of Pennsylvania, where she was recently promoted to associate professor. In Fall 2015 she will begin teaching at Duke University. Dr. Jaji's research often focuses on representations of sound, music and listening, and engages feminist methods and theory. She is currently a fellow in residence at W.E.B. Du Bois College House, and holds a Ph.D. in comparative literature from Cornell University (2009) with work in English, French, and Spanish.
She is the author of a scholarly book, Africa in Stereo: Modernism, Music and Pan-African Solidarity (Oxford, 2014), which accounts for how and why African American music and literature circulated in Ghana, Senegal, and South Africa and contributed so profoundly to African notions of solidarity in the 20th century. She is currently at work on two new scholarly book projects. The first, Cassava Westerns: Refiguring the American Frontier Myth in Global Black Imaginaries, examines the way writers, filmmakers and musicians of Africa and the Black Diaspora have critically engaged with tropes and mythologies of the U.S. West. Her article "Cassava Westerns: Ways of Watching Abderrahmane Sissako" will appear this fall in Black Camera. The second project, Classic Black: Art Songs of the Black Atlantic analyzes the literary commentary that composers of color have performed through setting poetry to music. A brief blogpost about this project can be found on the Penn Press website.
In parallel with her scholarship, Jaji is a poet, and her chapbook "Carnaval" appears in the African Poetry Book Fund's Seven New Generation African Poets (Slapering Hol, 2014). She also holds a degree in music performance from Oberlin College and Conservatory, and in her spare time she plays piano and sings.
Esau J. Mavindidze
President of the Zimbabwe Diaspora Network North America (ZDNNA)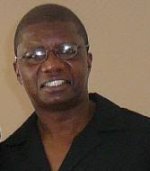 Esau Jabulani Mavindidze is a Sr. Technical Communication Specialist for a leading software company in the United States. Esau has an IT career spanning more than 12 years, and has worked for major US based corporations such as Motorola, VerticalNet, and Volt Delta Resources. His areas of expertise include Training and Documentation, Technical Writing, Content Management, Business Requirements Gathering, Software Release Management, and the general coordination of internal business processes that support Information Technology projects. From 2003 to 2010, Esau was an Adjunct Lecturer at the African Studies Center and Penn Language Center of the University of Pennsylvania.
Esau is a graduate of Syracuse University School of Information Studies (iSchool), in Syracuse, NY, where he obtained two Masters Degrees. He also studied at the University of Zimbabwe where he attained a bachelor's degree in history in 1987. After briefly working in the Zimbabwean civil service, he left for the United States on a Fulbright Scholarship.
Esau's passion is in community organization, planning, and networking mobilization. He has been involved in the starting up and running of many community-based small organizations, investment clubs, and small companies. Esau has provided capacity building consultancy for small non-profit organizations, including the writing of project proposals, drafting of by-laws and registration, setting up communication requirements, website content design and maintenance, and event management. He currently is a board member for Zimfon, a US-based Voice-over Internet Protocol service provider (VoIP), targeting Zimbabwe's Diaspora. Esau is also the founder and CEO of Products Promotion and Networking Events Associates (PRANEA).
Esau is the current President of the Zimbabwe Diaspora Network North America (ZDNNA), and is a founding member of the Zimbabwe Diaspora Home Interface Program (ZDHIP). ZDHIP was mentioned in the recently published 2014 Zimbabwe National Budget document as the officially recognized platform for formalizing dialogue between the Government of Zimbabwe and the Diaspora. Esau's profile includes sitting on the board of directors of ZimExpo, an Event Management company based in the USA, and founding and managing the Zimbabwe Business Network International (ZBNI), a member affiliated network organization for entrepreneurial individuals and entities in the USA. Esau also sits on the board of the Zimbabwe Network for Health (ZimHealthUSA), a non-profit organization that supports health services and programs in Zimbabwe. Other Diaspora-based initiatives that Esau has been involved with, include, the Pan African Community of Central New York (PACCNY), the Association of Zimbabweans in the Delaware Valley (AZDV), and ZimSports USA.
Esau currently resides in the USA, in Apex, North Carolina with his wife and two kids.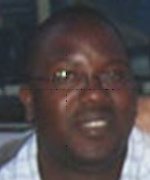 A native of Zimbabwe, Ronald Mutasa, brings a decade of leadership and program management experience at the community, national, and regional levels in southern Africa. Currently at the World Bank, he serves as a Task Leader for various public health programs and analytical studies in Eastern and Southern Africa within the Bank's Global Health Practice. Previously, Ronald was a Program Manager responsible for coordinating health and social protection sector investments financed by the Canadian International Development Agency (CIDA), USAID, and the Open Society Institute. Much of this work focused on enhancing equitable access to quality public health care and social protection services by the poor. Ronald has been intensively involved in the technical design, preparation, and implementation of multiple public health programs in Africa. He has served as peer reviewer for various programs and studies within the Bank and has published on demand- and supply-side financing and incentives in low and middle-income settings. Ronald was one of the first staff members of the Bantwana Initiative where he served as a Program Manager for East and Southern Africa.
Kim Cassidy
Bryn Mawr College President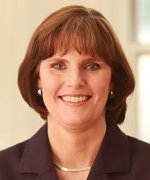 Kimberly Wright Cassidy has been a faculty member at Bryn Mawr College since 1993. She served as the College's Provost from 2007-2013 and as Interim President from July 2013-February 2014. She became the College's Ninth President in February 2014.
During her tenure as Provost and Interim President, Cassidy was instrumental in leading a number of important initiatives which include facilitating curricular renewal in collaboration with faculty leaders, the development of the College's new interdisciplinary 360° courses, the introduction of new academic programs, including an International Studies major, and the advancement of digital initiatives within the classroom. Central to all these initiatives has been Cassidy's unwavering support of the scholar/teacher model in which faculty research and the instruction of students are inextricably bound.
A leading proponent of using pedagogic research to enhance the liberal arts experience, Cassidy has led a program, funded by the Bill and Melinda Gates Foundation, piloting the use of blended learning (a combination of computer-based and classroom learning) in a liberal arts setting. Through this program, Bryn Mawr faculty have developed more than 20 courses across the curriculum that use the blended approach and have shared their findings and grant-funded resources with 39 of the other top liberal-arts colleges in the nation. Cassidy also believes strongly in the important role academic partnerships play for small liberal arts colleges like Bryn Mawr. In addition to her support of Bryn Mawr's collaborative relationships with Haverford, Penn, and Swarthmore, Cassidy played a key role in the College securing a grant from the Jack Kent Cooke Foundation grant to establish its first-ever partnership with two area community colleges. The grant supports outstanding students from those schools who transfer to Bryn Mawr to finish their undergraduate degree.
Throughout the years, Cassidy has served on numerous committees steering academic and faculty life on campus and has been an active supporter of Bryn Mawr's athletic and cultural programs. She earned her master's degree in psychology and Ph.D. in psychology from the University of Pennsylvania and earned a bachelor's degree with distinction in psychology from Swarthmore College.
A developmental psychologist with a focus on cognition and education, Cassidy maintains a keen interest in the development of children's theories about the minds of others. She has won research grants from the National Institutes of Health and the Guggenheim Foundation, among others. Her research has appeared in numerous journals.
USAP Forum 2012 Speakers
The summary biographies of the 2012 speakers are listed below.
David Bruce Wharton: US State Department
Olufunmilayo Falusi Olopade, MD, FACP: University of Chicago Medical Center
Clara L. Priester: EducationUSA Regional Director East and Southern Africa
Kuda Biza: AFR Clothing
Fanele Chester, Entreprenuer
Tendekai Muchenje, 6tm Solutions
Clyde Bango, Artist
David Bruce Wharton
Deputy Assistant Secretary for Public Diplomacy, Bureau of African Affairs
US State Department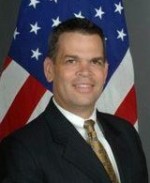 David Bruce Wharton became the Deputy Assistant Secretary for Public Diplomacy in the Bureau of African Affairs in July 2010.
He joined the Africa Bureau in August 2009 as the Director of the Office of Public Diplomacy and Public Affairs after a two-year assignment as Deputy Coordinator of the State Department's Bureau of International Information Programs. From 2003 to 2006 he was the Deputy Chief of Mission at the U.S. Embassy in Guatemala.
Bruce Wharton entered the Foreign Service in 1985 and has served at U.S. embassies in Argentina, Chile, Bolivia, South Africa, and Zimbabwe. In Africa, he has also had temporary duty in Tanzania, Nigeria, Kenya, and Ghana. From 1992 to 1995 he worked in Washington, D.C. on Andean Affairs and Western Hemisphere policy issues. He has received Superior and Meritorious Honor Awards from the Department of State and the U.S. Information Agency, and was the 2011 recipient of the Edward R. Murrow Award for Excellence in Public Diplomacy. Mr. Wharton was born in Basel, Switzerland, and enjoyed a cross-cultural childhood with time spent in both Europe and Texas. He is a graduate of the University of Texas in Austin and speaks Spanish and German. Prior to joining the Foreign Service, Mr. Wharton worked in professional theater in the Washington, D.C. area.
Olufunmilayo Falusi Olopade, MD, FACP
Walter L. Palmer Distinguished Service Professor of Medicine & Human Genetics
Associate Dean for Global Health, University of Chicago
Director of the Center for Clinical Cancer Genetics, Chicago Medical Center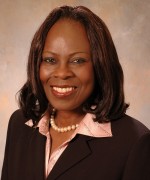 Dr. Olopade is the Walter L. Palmer Distinguished Service Professor of Medicine and Associate Dean for Global Health at the University of Chicago Medical Center.
Dr. Olopade graduated with distinction from the University of Ibadan College of Medicine in Nigeria and completed her residency training in Internal Medicine at Cook County Hospital in Chicago, where she also served as Chief Resident. Trained broadly in clinical hematology/oncology and cancer genetics at the University of Chicago, Dr. Olopade's research interests are diverse and include treatment of breast cancer, especially in young or pregnant women; familial cancers; molecular genetics of cancer; cancer risk assessment and chemoprevention; breast cancer and minority populations; and disparities in health outcomes.
As a physician and scientist, Dr. Olopade works to translate scientific discoveries at the individual and population level into optimal interventions for women at risk of breast cancer. Dr. Olopade has a special interest in women of African descent, who are at higher risk for the more aggressive breast cancer and more likely to be diagnosed at a younger age; her research on this population has broadened our understanding of the complex interactions of genes, lifestyle, and the environment in breast cancer causation. She aims to develop new biomarkers and improve screening standards and early detection for moderate- and high-risk populations.
Dr. Olopade has received numerous honors and awards, including the James S. McDonnell Foundation Scholar Award, the Doris Duke Distinguished Clinical Scientist Award and the MacArthur "Genius Grant" Fellowship. She is a member of the Institute of Medicine of the National Academies and the American Philosophical Society, and she is a fellow of the American Academy of Arts and Sciences.
Dr. Olopade was appointed by President Barack Obama to serve on the National Cancer Advisory Board, the highest level board that oversees the activities of the National Cancer Institute. In this role, she shapes the national cancer program and the investments made by NCI.
Clara L. Priester
EducationUSA Regional Director East and Southern Africa
US State Department

Clara Priester is the EducationUSA Regional Director for East and Southern Africa responsible for the development and training of EducationUSA Advisers in 23 countries focusing on areas of Advising Center management, operation, resources (financial, human and material); and professional development.
Clara relocated to Johannesburg in 1998 when she was appointed as McDonald's South Africa's first Director: Marketing and Communications. Her strategic marketing and branding expertise established the McDonald's brand in the marketplace and contributed to South Africa being one of McDonald's fastest growing international markets.
From 2003 to 2006, Clara was the Director: Marketing and Communications for Wits Business School where she is currently a guest lecturer.
Clara sits on the Women's Private Equity Trustee (WPEF) Board. Previously, she was a CAF Southern Africa Board Member and, from 2003 to 2010 was Chair of the Businesswomen's Association (BWA) Johannesburg branch.
Clara has a Bachelors Degree in Psychology and Secondary Education from Kansas Wesleyan University, a Masters in Business Administration (MBA) from University of Chicago Booth Graduate School of Business, and is a Chartered Marketer, CM (SA).
Kuda Biza
Co-Founder and Chief Donor, AFR Clothing
New Business Development Analyst, Jarden Consumer Solutions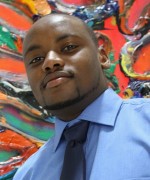 Kuda Biza, Co-Founder and Chief Donor, AFR Clothing and New Business Development Analyst, Jarden Consumer Solutions (JCS is a wholly owned subsidiary of Jarden Corporation; NYSE:JAH), has a keen understanding of what it takes to create new businesses in both a corporate set-up and a start-up environment in different markets.
Kuda has dedicated his life to ensure that less-fortunate members of society get a second chance in life. His entrepreneurial ventures are motivated by his desire to do good for humanity. In 2009, he founded AFR Clothing in his dorm room during his senior year at Lynn University. AFR Clothing is a social enterprise that donates a portion of its profits to send orphans and vulnerable children in Africa to school. Kuda is responsible for overseeing all operational activities in the USA while providing strategic direction for the UK office. As the Chief Donor, he is also responsible for identifying donation beneficiaries and chairs the Amani-Hope Scholarship Committee. By early 2012, AFR Clothing has changed the lives of children in Zimbabwe, South Africa, and Tanzania; with the hope of changing lives of children in every African country by 2020. In 2011, Kuda was selected as one of the JCI Ten Outstanding Young Persons of Zimbabwe for Entrepreneurial Achievement and was one of the top 30 finalists for the 2011 JCI Ten Outstanding Young Persons of the World Program based on the entrepreneurial work he has done through AFR Clothing.
Kuda holds an MBA in Financial Valuation and Investment Management and a BS in International Business & Aviation Management from Lynn University in Boca Raton, Florida. He also holds a Certificate in Microfinance from Marconi University in Rome, Italy.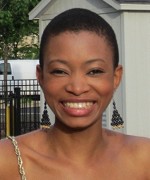 Fanele Chester is an African business, development and technology enthusiast. She is social commentator who has gathered extensive experience in and about African development during her time working with her native Swaziland's chamber of commerce and through her research. She is the founder of the websites fanelechester.com and Meet Africa's Finest, both of which are encyclopedias of thought leadership on trends and cutting edge commentary on Africa's development.
She is currently working on her latest start-up, Inspired Young Minds, an education-focused initiative whose mission is developing leadership, innovation and entrepreneurship skills and mindsets among primary and high school students in rural and isolated communities across Africa.
She is also serves as an adviser for a education-based tech start-up in Kenya, and as well as helping to edit a collection of essays by Desmond Tutu Fellows, which will be published by The African Leadership Initiative later this year.
She is also the former founder and editor of Fashion Et Al (fanelelove.com), a website dedicated to providing high level commentary on the business of fashion for African designers across the world, which has racked up over 120,000 hits to date.
Fanele Chester is a Romance Languages & Literatures in French major from the University of Chicago Class of 2013, and a graduate of Red Cross Nordic United World College Class of 2008.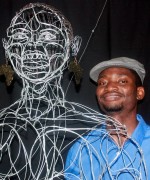 Bango's ambitious list is a page out of The Renaissance. With interests spanning art, science, and writing, Clyde is an artist first and foremost. Currently he works at the Dana Farber Cancer Institute as a Research Technician in Medical Oncology. Somehow he finds time to keep up with art exhibitions, commissions and studying in between. Clyde's artwork can be found at clydebango.com along with a full bio and contact details. He is proudly from Mbare, Harare, Zimbabwe, and currently lives in Boston, Massachusetts.
Bango exhibits in schools, contemporary art galleries, and related fundraisers. Recently, he showed in a well received solo exhibition at The Museum of African Culture in Portland, Maine. His wire sculptures reminisce humble childhood memories but manifest in dynamic intricate forms, with promise to claim an important place in contemporary art history. Clyde's work participates in social and political dialogues, and as well stand in design and architecture. Inspired by personal experiences in Mbare and at Bates College, Clyde is setting up a non-profit organization that will promote and provide avenues for talented African students to learn about careers and innovative opportunities through the fine arts. The heart of the program consists of academic advising, mentorship by established artists, and material sponsorship through art drives in US colleges.
Tendekai Muchenje
Founder, 6tm Soultions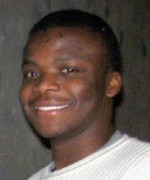 Tendekai is a serial entrepreneur focusing on mobile and web technologies. A software development engineer by profession, he founded 6tm Solutions, an app development house with a focus on creating solutions aimed at both the developing and developed worlds. He studied engineering and computer science at Duke University and has worked with Econet Wireless, Duke OIT and most recently Microsoft Corporation as a software engineer. At 6tm Solutions, he leads a venture capital funded team building applications such as Helpr, Scoo and Yose, some of which have received acclaim and recognition both in the Silicon Valley and Europe.
USAP Forum 2011 Speakers
The summary biographies of the 2011 speakers are listed below. Select biographies of past Forum speakers are listed immediately after the 2011 speakers.
Jeffrey Brenzel, Yale University
Marichal Gentry, Yale University
Martin Ganda, Seeds of Africa
Jeffrey Brenzel
Dean of Undergraduate Admissions
Yale University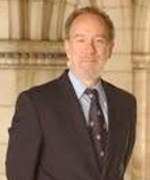 A 1975 graduate of Yale College, Jeff Brenzel has worked as a nonprofit executive, a private sector entrepreneur, a scholar and a university administrator. He earned his Ph.D. in Philosophy at the University of Notre Dame, while at the same time founding and developing InterLearn, Inc., an investor-backed venture that used new media and technologies to produce career education and liberal arts programs for adult learners. He returned to Yale in 1997 as the Executive Director of the Association of Yale Alumni (AYA), responsible for university alumni relations, event management, education programming and online services. In September of 2005, he was named the Dean of Undergraduate Admissions at Yale. In his new capacity, Jeff is responsible for worldwide outreach to talented students, the selection process itself, and the development of admissions policy. He also holds an appointment as Lecturer in the Philosophy Department at Yale, and teaches in the Directed Studies program.
Marichal Gentry
Dean of Student Affairs
Yale University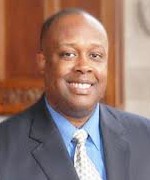 Gentry majored in political science and French as an undergraduate at the University of the South (Sewanee) and earned an M.S.W. from the University of North Carolina at Chapel Hill. After beginning his career with administrative positions in admissions at Sewanee and in residential life at UNC, he served as a social worker at the Duke University Medical Center, counseling young people and their families in moments of crisis. He then went on to become a dean at Middlebury College.
Gentry's experience as Associate Dean of Student Affairs and as Associate Dean of the College at Middlebury involved many different assignments, including serving as the College's chief judicial affairs officer, providing leadership for the development of residential programming and serving as a member of the Human Relations Committee. He was deeply engaged with the advancement of Middlebury's diversity initiative through service as Acting Dean of the Office for Institutional Diversity, as adviser to student groups and through the development of initiatives such as a symposium for campus leadership. In 2007, Gentry was named Dean of Student Affairs and Associate Dean of Yale College.
Martin Ganda
Analyst, Goldman Sachs
Founder, Seeds of Africa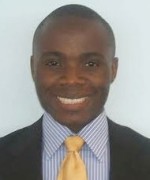 Martin was born and raised in Mutare, Zimbabwe. He attended Marist Brothers High School, where he focused on the sciences. He went on to major in Mathematics and Economics at Villanova University, PA. Martin joined Goldman Sachs as an analyst in 2007. Together with his friend Simbarashe Marekera, he started Seeds of Africa, a non-profit organization that works for the improvement of access to education for children in Zimbabwe.
Martin's full biography can be found on The Seeds of Africa website.
USAP Forum 2009 Speakers
Barrett Hazeltine, Brown University
Anani Dzidzienyo, Brown University
Rodney J. Clifton, Brown University
James S. Miller, Brown University
Denboy Kudejira, Brandeis University
Barrett Hazeltine
Professor of Engineering Emeritus, Adjunct Professor of Engineering
Brown University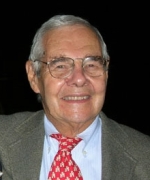 His teaching and research interests are in engineering management, technology planning especially in developing countries, and teaching of technology for Liberal Arts students, and digital computers. Has experience and has done research and in Africa and in Asia. Has taught at the University of Zambia, University of Malawi, University of Botswana, and at Africa University in Zimbabwe. Other foreign countries in which he has done teaching or consulting are Bangladesh, Indonesia, Nigeria, South Africa, The Philippines, Taiwan and Thailand.
More informartion on Dr. Barret Hazeltine can be found on his website here.
Anani Dzidzienyo
Associate Professor of Africana Studies, Portuguese & Brazilian Studies
Brown University
Anani Dzidzienyo, Associate Professor of Africana Studies, and Portuguese and Brazilian Studies, specializes in the study of race in Latin America and the encounters between Latina American and Africans, as well as on the life and work of George Padmore and Kwame Nkrumah. He has been invited to present papers, organized and participated in international conferences on blacks in Latin America. He is also a member of the International Advisory Committee, African Diaspora Research Project.
More informartion on Professor Anani Dzidzienyo can be found on his page on the Brown University website.
Rodney J. Clifton
Dean of Engineering
Brown University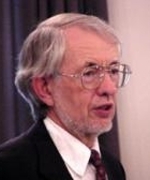 Professor Clifton's primary research is on the mechanical response of materials at very high loading rates. Applications include: high speed machining, armor penetration, shear band formation, martensitic phase transformations, elastohydrodynamic lubrication, and dynamic fracture. Principal experimental approach is pressure-shear plate impact. A second research focus involves the measurement of the high frequency, viscoelastic response of soft, biological tissues, especially vocal folds
More informartion on Dr. Rodney J. Clifton can be found on his page on the Brown University website.
James S. Miller
Dean of Admissions
Brown University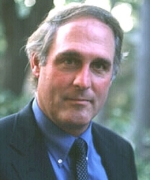 James Miller graduated from Brown in 1973 (A.B., American history) and went on to earn a master's degree in communications from Michigan State University. He began his career in higher education as an admissions and financial aid officer at Harvard in the fall of 1978, continuing there as associate director of financial aid and senior admissions officer (1980) and director of financial aid (1983). In 1999, after 16 years as Harvard's director of financial aid, Miller returned to Brown as executive director of capital giving. In addition to his responsibilities for managing relationships with the University's leading donors, Miller participated in a six-month review of Brown's potential to achieve a need-blind admission program. He returned to the financial aid and admissions area first as a consultant on financial aid econometric modeling for The College Board and then, in the fall of 2001, as dean of admissions and financial aid for Bowdoin College. In addition to his work in admissions and financial aid, Miller served as one of the Bowdoin's six senior officers, participating in budgeting and priority-setting across the college, from physical plant to academic planning, fundraising, alumni, student services and public relations.
Denboy Kudejira
Brandeis University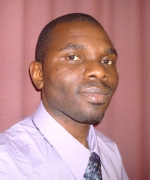 He has worked for the Reducing Vulnerability Programme of Practical Action - Southern Africa for more than 4 years as a Livelihoods Officer. He was coordinating community development initiatives in Zimbabwe's Manicaland Province (Specifically, in Chimanimani District) including Community Based Natural Resources Management, Sustainable Agriculture and HIV/AIDS response interventions. He was also involved in work on climate change adaptation in Burkina Faso and recently completed his Masters degree is Sustainable International Development from Brandeis University .