USAP Fire Rekindled! @ Bryn Mawr College: Recap
USAP Forum 2015 Executive Recap
Tsitsi Jaji: Professor of African and Diaspora Literatures
Tsitsi Masiyiwa: Founder and Executive Chairperson of the Higherlife Foundation (HLF)
Ronald Mutasa: World Bank
Elinor Burkett and Dennis Gaboury
Professional Interest Groups
USAP Soccer Grand Champions Cup
Formal Dinner and Talent Show
Memorial for our sisters: Nancy and Morlene
Esau J. Mavindidze: President of the Zimbabwe Diaspora Network North America (ZDNNA)
Skype with Rebecca Ziegler-Mano, Networking event and Closing remarks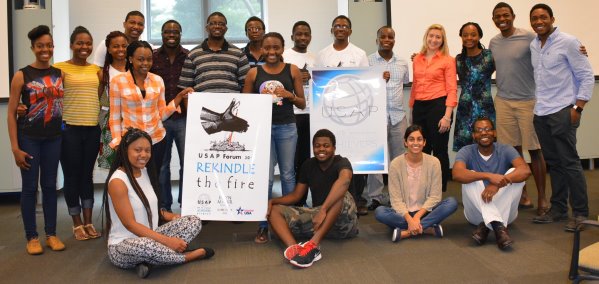 Some of the participants and guests at the USAP Forum 2015 held at Bryn Mawr College gather for a photo.
USAP Forum 2015 Summary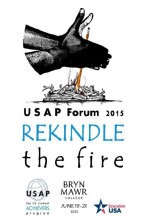 The USAP Forum 2015 took place at Bryn Mawr College, Pennsylvania from June 19-21 under the theme, "Rekindling the Fire." Over 60 USAP students, alumni, friends and supporters of USAP, and admissions officers attended the forum with representation from Nigeria, Zimbabwe, Zambia, Kenya, USA and Malawi. This year's theme aimed to capture the importance of strengthening and organizing the USAP network to fully utilize the existing resources, talents and expertise in the growing network. There is potential in organizing itself into an influential network that leverages its presence in various sectors and inspire the younger generation of USAP students. Giving back – a core USAP value –featured prominently throughout the forum discussions. There are multiple ways of giving back, this may not be in monetary form alone but USAPers can give back through their skills, talents and relationships.
The President of Bryn Mawr College, Kimberly Cassidy opened the forum with a welcome address in which she shared her experience with USAP students over the years. In her remarks, she challenged and reminded USAP students and alumni to wear their USAP and college identities proudly and loudly because the colleges have gained a lot from having USAP students join their campuses. A great line up of speakers on student-professor relationships, professional and career development; giving back and linking with the diaspora community enriched the conversations at the forum.
Dr. Tsitsi Jaji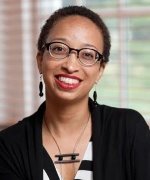 In her talk, Dr Tsitsi Jaji tapped into her undergraduate experience as an international student from Zimbabwe to inspire current USAP students. She shared her experience with culture shock, race in the US, financial security, career decisions and life after college. Dr Jaji's insights were informed by both her experience as a student and her current role as a professor – having been in both roles herself, Dr Jaji understands the importance of engaging professors both inside and outside academic settings in intellectually stimulating ways. "Ask intelligent questions", she said. To some, life after graduation can seem to be unproductive in the first few years. Dr Jaji encouraged USAP students not to lose focus when their career goals do not go as planned. She shared with us her experience with a setback after graduating from college. In her talk she offered concrete examples of how students can utilize campus resources. On a topic that is usually not discussed publicly, Dr Jaji encouraged USAP students to seek out guidance and counselling because mental health challenges are common but there are resources and services that students can utilize.
Mrs Tsitsi Masiyiwa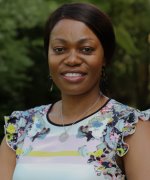 The keynote speaker, Mrs Tsitsi Masiyiwa situated USAP in the wider Africa and global context. As the founder and executive chairperson of Higher Life Foundation (HLF), Mrs Masiyiwa leads various initiatives aimed at expanding access to quality education for children and youth, as well as supporting orphaned and vulnerable children. Through her visually and statistically rich presentation, she demonstrated the challenges facing Africa as well as opportunities and manageable calls to action. Throughout her presentation, she highlighted the critical role of youth and the transformative power of education in addressing social, economic and political challenges facing Africa.
As a social entrepreneur and innovator herself, she challenged the audience to "set measurable goals; overcome obstacles; make your mark and to adopt an innovative mindset." In addition to Higher Life Foundation, she is also fostering innovation through Ruzivo, an online mobile learning platform that gives thousands of children access to existing and improved learning material, and Muzinda Hub, an entrepreneurship and innovation hub that trains computer programming to Zimbabwean youths. Mrs Masiyiwa further challenged USAP to truly rekindle the fire and give back to their communities and leverage the power of the USAP network.
Mr Ronald Mutasa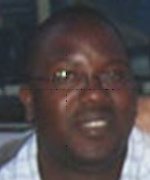 Mr Ronald Mutasa shared his experience of reaching out and the power of cultivating relationships. Together with other Zimbabweans in the US, Mr Mutasa maintained a strong professional network and organized a fundraising campaign for purchasing medical equipment for a clinic in Zimbabwe. In his current role at the World Bank, Mr Mutasa works on health service delivery with a focus on Zimbabwe. He shared that he was fortunate to be able to work on making an impact through his work, demonstrating that sometimes you can give back to your community while working with institutions that could be outside of Zimbabwe. His presentation resonated with many of the participants as his story was referenced across many professional interest groups. He emphasized the need to strategically plan and package one's achievements and experience so that one can be different from competitors. "Always look at your competition," he said substantiating his argument with his experience applying and interviewing at his current job.
Elinor Burkett and Dennis Gaboury
Elinor and Dennis, the founders Zimkids Orphan Trust, a comprehensive program for orphans in Pumula North, Zimbabwe, discussed with the group the cultural challenges to working with Zimbabwean girls in orphanages.
Professional Interest Groups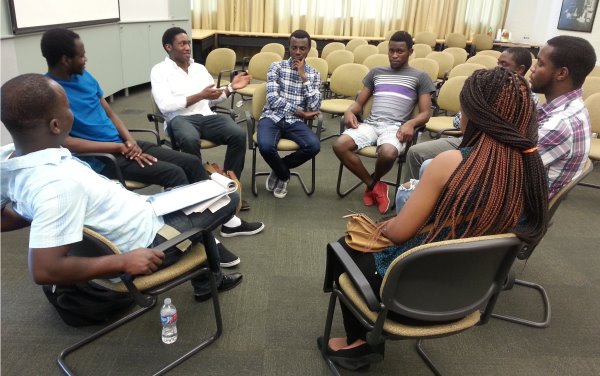 Forum attendees also had an opportunity to connect within their professional interest groups led by USAP alumni: Arts and Public Service facilitated by Chiedza Mufunde, Biomedical Sciences led by Amanda Valeta Magara and Emmanuel Magara, Technology and Engineering led by Jonah Kadoko and Business/Finance facilitated by David Tswamuno. These interest groups were a platform for students and professionals to engage in discussions, exchange ideas and brainstorm ways of giving back to their respective communities using educational and professional specialties. Linking USAP student and alumni within various professional interests is very critical to connect beyond cohorts.
USAP Soccer Grand Champions Cup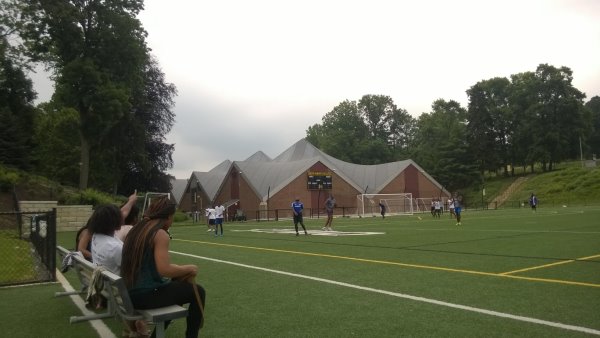 One of the highlights from the USAP Forum each year is the USAP Soccer Grand Champions Cup. The graduate team, which was composed of recent college graduates, played against the undergraduate team. The game ended in a 6-6 deadlock.
Formal Dinner and Talent Show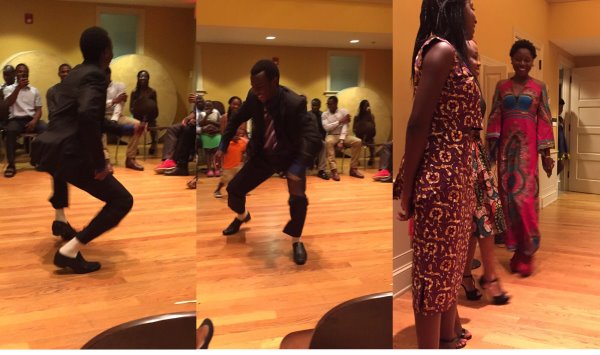 Later, attendees enjoyed a formal dinner with a toast by Siko Sikochi to the #USAPForum2015. After dinner and dessert, USAP ladies catwalked in trendy African print outfits designed by House of Chihera, founded by USAP alumni Senzeni Mpofu. The Talent/No Talent Show was a hit with various performances - attendees had the opportunity to take the stage and share some hidden talents.
Sunday June 21st: Memorial for our sisters: Nancy and Morlene

Sunday, the last day of the forum started with a memorial for the late Nancy Tinoza and Morlene Magoronga. This was the most difficult and touching moment of the forum. Friends and colleagues shared loving memories of Nancy and Morlene. The loss also fostered a space for reflection on what it means to be there for each other in times of difficulty and how can best support each other in concrete ways as a family and network.
Mr Esau Mavindidze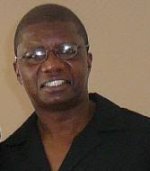 Mr Esau Mavindidze of the Zimbabwe Diaspora Home Interface Program gave the final presentation at the forum. This new organization aims to help bridge the gap between Zimbabweans living in the diaspora and the Zimbabwean government, and encourages networking among Zimbabwean professionals in the US and Canada. In the future, Mr Mavindidze hopes this organization can partner with USAP on more concrete projects. In addition to the professional focus of Zimbabwe Diaspora Home Interface Program, he hopes the organization can also link students and other young Zimbabweans with Zimbabwean families in the network. He encouraged USAP to have stronger networks to support each other at all times.
Skype with Rebecca Ziegler-Mano, Networking Event and Closing Remarks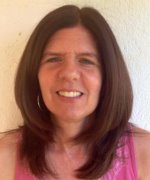 Even though she could not join us in person, Rebecca Ziegler-Mano joined us via Skype. She emphasized the importance of the annual USAP Forum, networking and giving back and graced the end of the forum. The forum facilitated a much-needed space for reconnecting and ignited ideas on how to harness the potential of the USAP family and strengthen the existing strengths of the network. The forum would not have been possible without the incredible hard work of the forum organizers, led by Getrude Makurumidze, and the generosity of Bryn Mawr College for hosting us.