USAP Gives Back
USAP Cares
Founded by Doreen Mashu
USAP Cares was born to encourage and provide a platform for volunteerism when students return home to Zimbabwe. USAP Cares will be launched in December 2010. Returning students will coordinate and join hands with the community at the following two events;
1. Chiedza Child Care Center
On December 9, 2010 USAP Cares will throw a Christmas party for the 400 Chiedza children and their caregivers. We have raised funds and we will run the event.
2. Tariro - Health and Hope for Zimbabwe's Orphans
USAP Cares will host a mentorship day for Tariro on December 17, 2010. We will give motivational presentations to the students. After the presentations, we will take the group and spend quality time with them, imparting our experiences and learning about each other. At the end of the day we will reflect on the main take-aways.
Please email usapcares@usapglobal.org with your interest and availability to participate in these programs. More programs will be posted on this website in due course.
Seeds Of Africa
Co-founded by Simba Marekera, Yale College 07'
Seeds of Africa is building a Knowledge Center in Mutare, Zimbabwe. The Knowledge Center will provide state of the art educational facilities for the community of Sakubva. This educational development project will comprise of nursery, modern library, computing center and microfinance institute.
Seeds of Africa is a publicly supported, non-profit organization that financially supports academically brilliant students in Zimbabwe from poor families so that they can get an education. We believe that for those who are born poor, education is a weapon to conquer poverty, bring enlightenment and change lives. We believe that education and knowledge is the most powerful tool to bring change, independence and innovation to Africa and the whole world. Amongst other things, our foundation provides school fees, books, uniforms to each student. Apart from providing funding, we connect each student to an accomplished local business executive or leader to serve as a mentor the student. Seasoned business and government leaders in Zimbabwe, South Africa and USA serve as advisors to the foundation.
A Step Towards Health, A Step Towards Peace
Co-directed by Getrude Chimhungwe, Mount Holyoke College 08'
A step towards health, a step towards peace is a grass-root project that received funding from the Davis Foundation's "100 Projects for Peace" and the Dorothy Ann Foundation. The two organizations donated a total of US$17,000 towards the project that was geared towards equipping a health clinic to be self sufficient. Two students, Getrude Chimhungwe and Mufaro Kanyangarara, worked on setting up a chicken farm whose proceeds are now benefiting the health clinic. The clinic which is managed by Tsungirirai Zimbabwe serves over 500 HIV/AIDS orphans around the Norton area in Zimbabwe.
Sewing a Living for the Old
Founded by Tariro Mupombwa, University of Pennsylvania 10'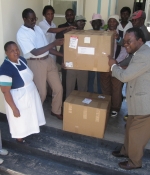 In February 2009, Tariro Mupombwa started a sewing machine project for Bumhudzo Old People's Home which is run by the Salvation Army in Zimbabwe and is located on the outskirts of Chitungwiza. After Mupombwa's sewing machine project proposal was featured in the media, she received an overwhelming response from the Philadelphia community. With the help of the Salvation Army Philadelphia, her professor, Dr. Harvey Rubin, OIC International, Americas East District UPS and Federal Express, they collected over 65 sewing machines and shipped 31 working machines to Zimbabwe. The machines will be used for sewing school uniforms and baby garments which will be sold in the Salvation Army outlets. The income generated will be used for both the upkeep of the home and the management of the sewing project. In addition to this, some of the sewing machines will be used in vocational training centers run by the Salvation Army for training school leavers with sewing skills. (Click on image to see larger image.)
Chipo Kuvana, BECK
Founded by Portia Chipendo, Wesleyan College '09
Bridge to Education: Chipo Kuvana (BECK) is a grassroots level organization that assists children with no financial means to attend primary and secondary school in Chitungwiza, Zimbawe. BECK works in collaboration with school administrators in Chitungwiza, as well as private donors and other organizations in the United States to mobilize educational resources. Students are either matched with sponsors or supported through donations from the BECK Fund. We conduct fundraising events independently as well as in collaboration with college campus groups in the United States. In May 2009 BECK received the Christopher Brodigan Grant from Wesleyan University to implement a chicken rearing mifro-finance project in Chitungwiza. We launched this project in December 2010 and it is run by our staff together with the familes benefiting from BECK. The profits will be tailored toward providing more resources for the students and sustainable income for the families.
Tatenda Foundation
Founded by Anywhere Sikochi, Middlebury College '05
Tatenda Foundation was founded with the primary goal being to raise and provide scholarship funds for local kids in Banket, Zimbabwe. Over the years, while developing the foundation into a formal organization, they have sent textbooks for high schools students studying literature, history and other humanities. They have also managed to pay school and examination fees every year, in the last five years, for five to twenty students. The foundation also initiated partnerships for local groups and students with some U.S. organizations with common interests that led to funding of sporting equipment for use by youths in Banket. Tatenda foundation is based in Boston, Massachusetts.
Beyond Borders/Breaking Barriers: The long Arm of Charity
Initiative by Allen Kuziwakwashe Matsika, St. Johns College '15
At the end of each month, a family from Allen's church goes out to feed the hungry at the Salvation Army Park in Santa Fe, New Mexico. Allen joined one of the families at the earliest opportunity and what he saw struck a chord in him. Determined to do something to add to the quality of the lives of these people, he noticed that as they handed out the food to the hungry people they would be shivering and that they huddled together when they ate. He consulted with two of his friends, who listened to his concern and the idea of a "Coat Drive" was born. Together they designed a flyer, organized a deposit/drop point and spread the word about the drive. The response was overwhelming and encouraging and what appeared to be a one month project began to grow and still is. Jackets, warm stockings, boots, scarves, small blankets and even summer clothes have been collected and are still flooding in from students, teaching and non-teaching staff. These donated clothings are then distributed when Allen goes to help feed the hungry. Allen hopes to help define one's community not only as where one comes from but also as wherever one is and that people should be involved in their communities regardless of race or nationality.
Bhlasen.com
Co-founded by Proud Dzambukira, Harvard College 07'
Bhlasen.com aims to directly engage and influence the formation of perceptions of Africa. They seek to open lines of illuminating dialogue among African university students and also between them and their peers from outside Africa. They intend to bring their voices into the global dialogue to proactively assert and defend the multiple expressions of African identities and directly confront unfair negative perceptions of the continent.
A Hundred and Fifty-Six Children
Co-initiated by Fallon Chipidza, Hamilton College '10
In the summer of 2008, Fallon Chipidza helped initiate a chicken farm at St. Theresa Pre-School in Chitungwiza, Zimbabwe. Her project, A Hundred and Fifty-Six Children, was among the one hundred that were funded by the Davis Projects for Peace, a philanthropic organization that helps undergraduates launch 'immediate initiatives'.
Together with the pre-school teachers, Chipidza managed to build a coop and bought seven hundred chickens to kick-start the self-sustaining project. Money earned from selling eggs and some of the chickens was used to send about thirty of the orphaned children to school at the beginning of the 2009-10 academic year. It has almost been a year since the first chicken run was built; the project has been self-sustaining since then and the second cohort of graduating kindergarteners is preparing to enroll into first grade next year.
MAUYA – Chiedza Childcare Centre Project
Supported by USAP Ithaca College alums
MAUYA, Ithaca College African Student's Association adopted Chiedza Child Care for the years 2005 and 2006. Chiedza Child Care center, located in Harare, Zimbabwe aims to provide a caring home for vulnerable children, mostly those orphaned by the AIDS epidemic. Chiedza assists the guardians of the children in the community with immediate needs while empowering them through income generating projects like rabbit rearing and growing vegetables. Through fundraising activities on campus, MAUYA was able to raise money to contribute towards school tuition, food and uniforms for the children at Chiedza. The HIV/ AIDS pandemic has escalated the number of orphans whilst the economic conditions in Zimbabwe have made it harder to access basic commodities. In the midst of this hardship, Chiedza still thrives, helping over 250 children with school fees, uniforms, hot meals, after school tutoring and a fortnightly clinic with volunteer doctors. The USAP Ithaca College alums are continuing their support for Chiedza Child Care by making semi-annual contributions to the center.
Internships at the United States Educational Advising Center, Harare
Starting in the summer of 2003, USAP students have returned home to Zimbabwe during every school holiday to work as interns at the US Educational Advising Center located in the Public Affairs Section of the US Embassy. The interns have not only worked to support and advise USAP students on their way to the US, but also have been instrumental in organizing pre-departure activities for all Zimbabwean students preparing to study in the US, including an all day annual pre-departure orientation in mid July and seminars on topics ranging from "How to get the most out of a liberal arts education" to "The art of course selection" to "US Academic Writing." In August 2003, two USAP interns organized a three day intensive residential Returned Student Conference for Zimbabwean students who were home for holidays or had returned after graduation from colleges and universities in the US. Since 2003, the center has at least one student currently studying in the US working as an intern. The USEAC greatly appreciates the energy, creativity and dedication of its summer interns and encourages interested USAP students to apply for summer internship grants and funding at their various colleges and universities to come home and make a difference for the next generation!